During my high school and collegiate days, I was very fortunate to have many incredible internships. These internships lead me to meet some amazing mentors who have had great impacts on my life. It all started back in high school, where I had two of the most amazing teachers–my sophomore math teacher Mr. Lair and my junior year history teacher Ms. Mayo. They pushed me to be my best and taught in a way that made me want to stay after class and school and want to learn.
I was fortunate that I knew what I wanted my professional path to be early on. This helped me be laser focused on getting internships during college. All the lessons in business and work ethic I've learned leading up to starting PrideBites were because of these internships. I had Internships at Live Nation, the Houston Rockets, the Houston Astros, and IMG College. At every stop, I made it a point to be incredibly social, listen to as much as I could, and try to be a part of every meeting I could be…even if I wasn't qualified to be sitting in the room. I was also very lucky that I latched on to someone at each stop who wanted to guide and groom me.
At every stop, I learned something that helped me grow into the person I am today. Here are a few of the important lessons I have learned:  
Live Nation – Responsibility.
During my very first internship, I was thrown into the fire from day 1 and never looked back. Embracing the responsibility of doing your 'job'. I also took my first 'work trip' from NYC to Miami to help with the project I was working on; which happened to be the Jennifer Lopez tour where I took this picture.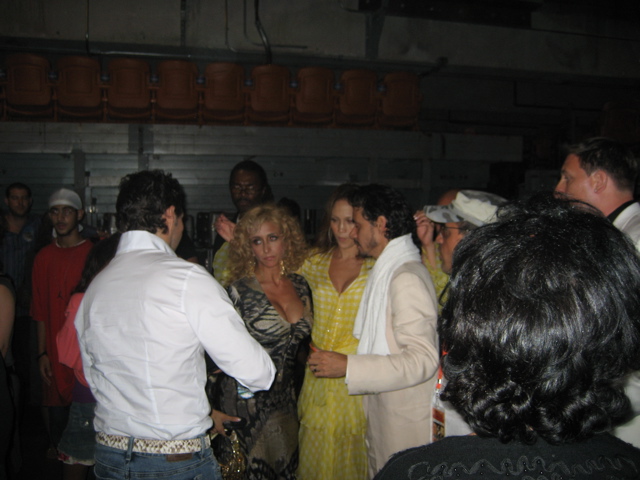 Houston Rockets – Business Development.
During my time at the Rockets, I learned a lot about why and how businesses invest in sports teams on the marketing side. Two executives took me under their wing and really taught me corporate sales and marketing.
(I can't believe I'm allowing this image to be posted but here was my Rockets badge to get into the building….)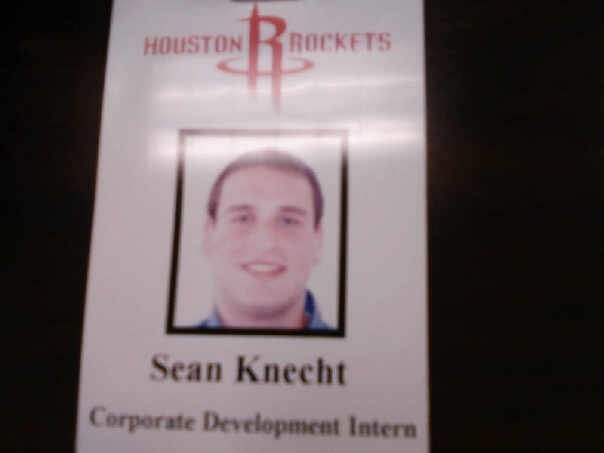 Houston Astros – Work Ethic.
While on the grounds crew for the Astros, I first learned the true meaning of a good work ethic. I worked long hours, weekends, and late late nights. I went in before 7am and on game days would be there until midnight…and then do it all over again. I didn't know what I was doing and was miserable at some points but I knew that I couldn't quit. I knew that I would take these lessons and apply them to my next job.
(This photo is of Craig Biggio's 3,000 base hit during the game)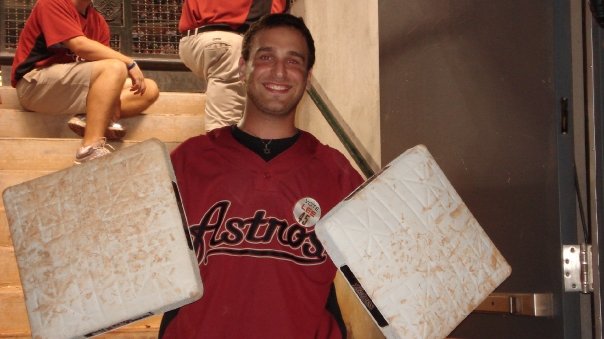 (This photo is of me well after midnight watering the newly replaced grass on the entire field during the All Star Break. We only had 4 days to do the entire re-sod so we worked all day and nights)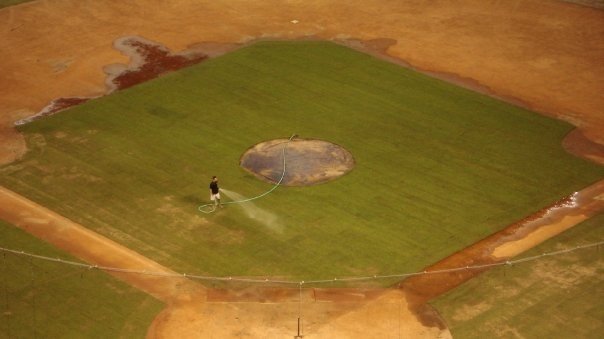 IMG College (Longhorn Sports Network) – Sales
In 2009, the economy crashed and I was fortunate enough to get a paid internship while no one was really hiring. I got a job working with IMG College in Austin, TX and helping sell corporate sponsorships for University of Texas Longhorn Athletics. The company was small (10ish people) and everyone gave me the opportunity to work with them. I floated from salesperson to salesperson and by the end of my internship, they allowed me to lead my very first sales meeting. Let's just say I didn't make the sale–it was a complete disaster and I was a mess in that meeting. But, there is a first for everything and I was proud of myself for just getting the meeting. It was at IMG College where I really learned how to sell and I am forever grateful for that opportunity….plus I got to go to the Big 12 Championship and  National Championship games.
(Photo below is of my boss at the Big 12 Championship Game who really took me under his wing. We are still very close friends)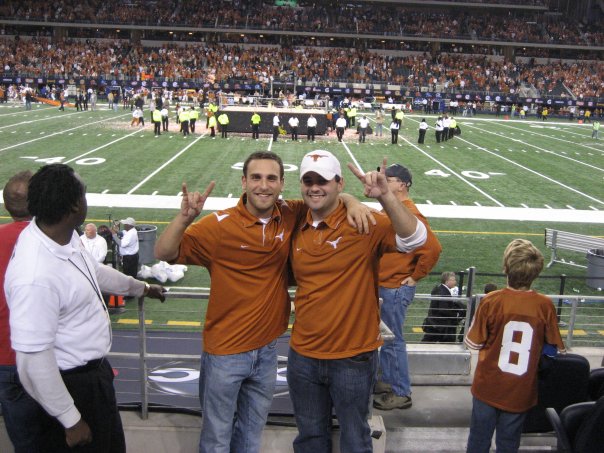 PrideBites Pet Products – Coming Full Circle
Throughout my professional years, I've never forgotten about my past internships and mentors who helped groomed me to be who I am today. I still contact them all at least a couple times a year to catch up and update them on everything. As PrideBites continues to grow, there is always work to be done and not enough hours in the day. I got connected to the Director of Internships at a high school near my office and told her that I would love to take a couple of interns under my wing. I had some projects for them and wanted to teach them out how run and manage a project by themselves. I helped set them up and they took full advantage of the opportunity. It was a great summer with them and plan to keep them on board throughout the school year. Thank you Windward High School for opening up your students to me and PrideBites.
(Photo below is of one of my rock star interns, Ivy)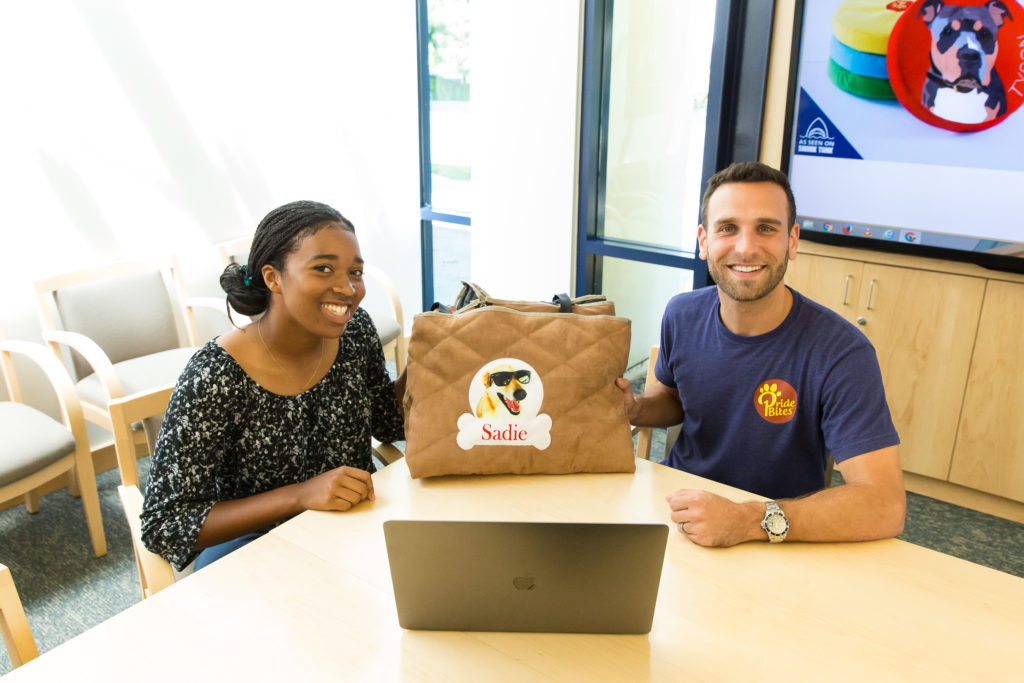 If you're in high school or college and are looking for an opportunity to work with us, please don't hesitate to reach out! Please send resume and cover letter to: Sean@pridebites.com